Congratulations to Juliana Lockman, IMTA's 2014 Teacher of the year!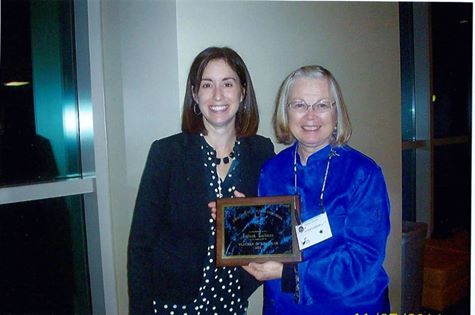 Juliana is a highly respected, caring, and talented piano teacher and has done so much promote piano in our region of Indiana.  She has been a tremendous mentor for area teachers, motivating, stimulating, and assisting new members to our piano association, including helping them to become nationally certified.
Juliana is talented, dedicated, responsible, conscientious, organized, energetic, hard-working, and a self-starter.  This individual is extremely dedicated to her students, matching her teaching style to the student's needs.  She is always learning new ways to keep her students engaged; to make them better musicians.  She attends conferences regularly to keep her teaching fresh and to stay abreast of current teaching theories, always happy to share her findings at association meetings.
Juliana has served as the President of our Local Music Teachers Association twice and Vice President once. She commissioned a piece for the association to perform together and served on the highly respected area Piano Competition Committee and its Scholarship Fund Committee.  She has chaired and co-chaired AIM auditions numerous times and she has chaired the Piano Ensemble Concert twice. When her students had a long drive to South Bend for their National Guild Auditions, she started her own audition center for them in Elkhart.
Her students have been recipients of many awards through the years, most notably in the Stickley Piano Competition and the IMTA Composition Contest.  When one of our association members mentioned that she would like practice tests to help her students prepare for AIM auditions, she created practice tests for all twelve levels and sent them to every AIM teacher!
In addition to her volunteer and teaching responsibilities, she has motivated others with her regular chamber music performances. She has served as IMTA Treasurer for many years.  Juliana can always be counted on to step up and volunteer for whatever is needed. When she says she will do something, she will do it – VERY thoroughly!
Indiana Music Teachers Association appreciates her and everything she does! Congratulations!