Teacher of the Year
The IMTA "Teacher of the Year" award is one of IMTA's highest honors.  This award recognizes an individual who demonstrates excellence in teaching and service to the music teaching profession and community.  Recipients are nominated by current members (individuals and/or local associations) and selected by the Teacher of the Year Chair and State President. The IMTA Teacher of the Year Award is announced and presented at the annual state conference.
The process of nominating X for Teacher of the Year has been a blessing for me to experience!  I want to let you know that because I am so uplifted to read the caring comments of colleagues, family, and students. Teacher of the Year is so cool!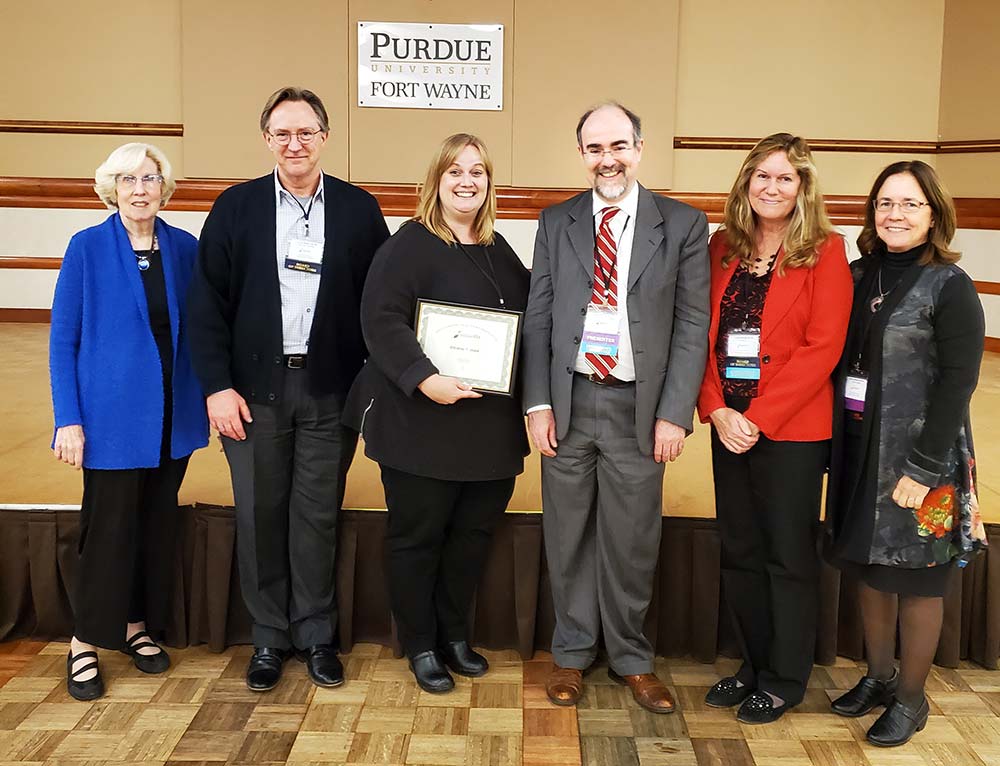 Pictured are former Teacher of the Year recipients MaryLee Morton, James Helton, Christina Whitlock, Hamilton Tescarollo, Linda Witchie, and Karen Thickstun.
Submissions for this award can be made online here.
The deadline is September 1, 2023.
For questions regarding this award please contact Kate Boyd. 
Past Winners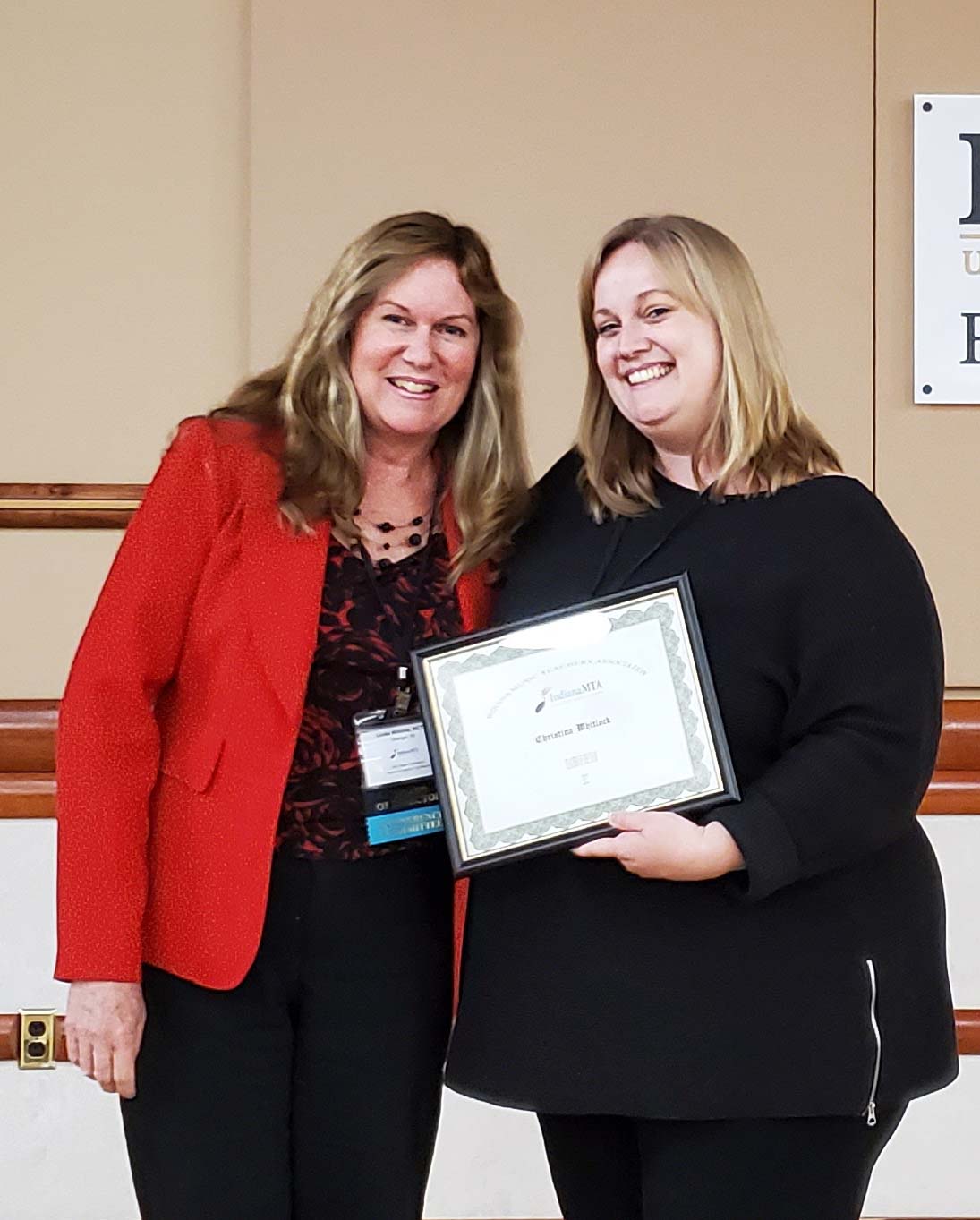 2022 – Christina Whitlock
2021 – Linda Witchie
2020 – David Cartledge
2019 – Kate Boyd
2018 – Marylee Morton
2017 – Euni Rickey
2016 – Jim Helton
2015 – Hamilton Tescarollo
2014 – Juliana Lockman
2013 – Don Freund
2012 – William Hughes
2011 – Mimi Zweig
2010 – Lori Rhoden
2009 – Richard Ratliff
2008 – Karen Thickstun
2007 – Karen Shaw
2006 – Margaret Strong
2005 – Margaret Roby
2004 – Reginald Rodgers
2002 – Beverley Simms
2001 – Mary C. Heller
2000 – Janet Piechocinski
1999 – Cheryl Everett
1998 – Robert Palmer
1997 – Annette Conklin
1996 – Joseph Rezits
1995 – Steve Roberson
1994 – Wilda Gene Marcus
1993 – Eugene Rousseau
1992 – Martin Marks
1991 – Carolyn Hutson
1990 – Marvin Blickenstaff
1989 – Lon Sherer
1988 – Karen Taylor
1987 – Marion Hall
1986 – Stella Tatlock
Distinguished Service Award
This is a very special award that is given at the discretion of the IMTA State President and presented on rare occasion to recognize outstanding service to IMTA. Recipients receive a plaque, a lifetime waiver of state dues, and will be featured in a post on the IMTA Website.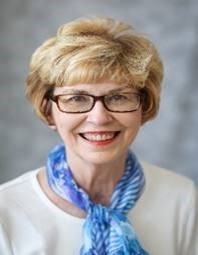 2021 – Cheryl Everett
2019 – Lori Rhoden
2018 – Douglas Sperry
2014 – Margaret Roby
2005 – Juliana Lockman
2002 – Verne Abe, Carolyn Hertzler, Karen Thickstun
1995 – Jack Eaton
Member Awards
IMTA recognizes those who have been members for 25 years and in five-year increments following (30, 35, etc.) These members are announced and awarded a certificate at the annual membership meeting during the annual state conference.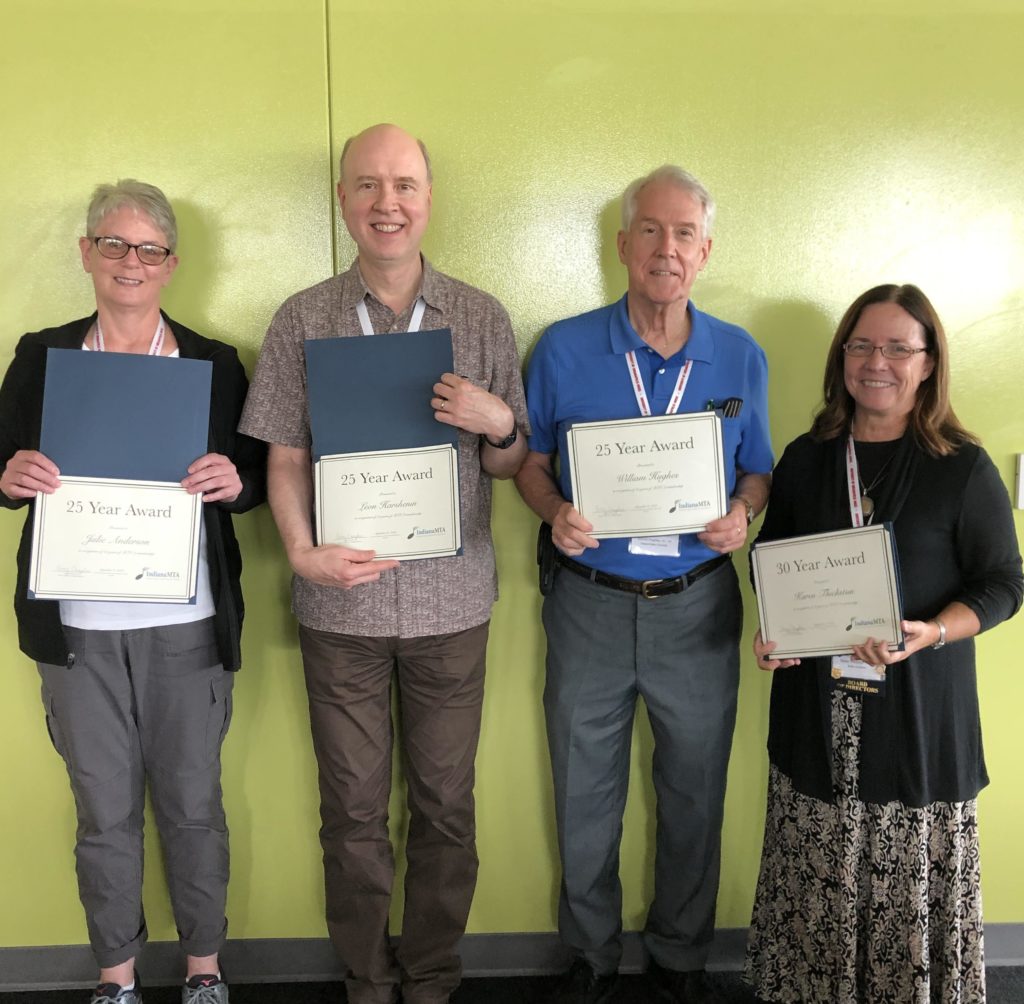 Local Member of the Year
This award is given, when desired, by Local Associations. Local Association Presidents should notify the IMTA President of any recipients prior to the Fall Conference so they may be acknowledged at the Membership Luncheon.
2016 – Paula Laskowski (SBMTA)
2011 – Bonnie Snyder (SBMTA)
2008 – Pricilla Filos (SBMTA)
2007 – Joyce Funderburg (SBMTA)
2006 – Lois Clouse (WVMTA); Charlene Sherry (SBMTA)
2005 – Maxine Yoder (GEMTA)
2003 – Barbara Byrum (SBAMTA); Wilma Hess (GEMTA)
2002 – Margaret (Peg) Adams (SBAMTA); Candy Henkle (GEMTA)
2001 – Patricia Puffer (GEMTA)
2000 – Ruth Rehm (GEMTA); Juliana Lockman (SBAMTA)
1999 – Stephen Gruoner (NW INMTA); Carolyn Hertzler (GEMTA); Linda Witchie (SBAMTA); Mavorette Flummerfelt (WVMTA)
1998 – Kathryn Sherer (GEMTA); Michelle Beyler (SBAMTA); Joan Kelham (NIMTA)