Members of the IMTA Board of Directors, as well as any student competitors from Indiana, are eligible to apply for the Stickley Grant. As part of the grant, recipients are asked to write a reflection of their time at the conference. We hope their words might encourage someone who has never attended a conference to go next year! The deadline for the grant is always January 31.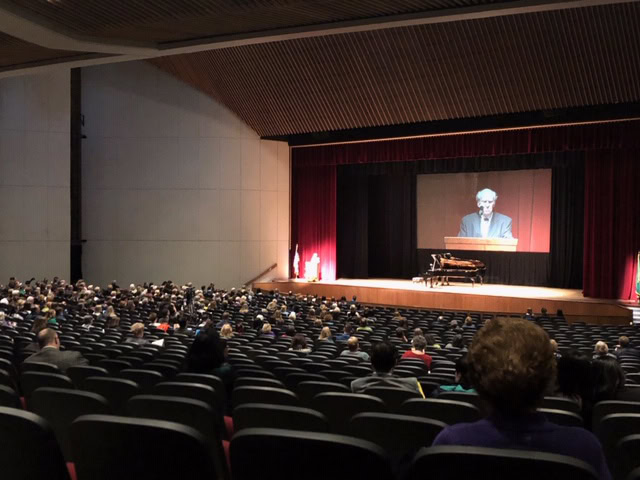 From Daniel Lin:
The 2019 MTNA Conference in Spokane was incredibly memorable in so many ways.  Not only did I have the opportunity to connect with many esteemed colleagues around the world, the educational benefits of a wide variety of sessions featured were invaluable.  Lectures given by Midori Koga, Rose Grace, and Christine Guptill were eye-opening in the sense that they all dealt with teaching and practice strategies that do not directly involve the keyboard.  Some of these include using movements and gestures to cultivate a more musical phrase; the role of visualization in practicing; and taking care of our instrument (our body) in order to maximize performance.  The highlight of the conference must certainly be given to the preeminent scholar, Alan Walker, the keynote speaker.  His lecture on Chopin was simply breath-taking in every way, and I left the venue being reminded of this important truth—music is capable of expressing that which words cannot; and we, as music teachers, are responsible for conveying this important truth to our students.
—————————————–
From Christina Whitlock:
I don't think it's any secret how much I love attending conferences, but I must say – Spokane was one for the record books!  I feel as though I've come home with more ideas and practical applications to my everyday lessons than ever before.
Highlights, for me, included:
·         An inspired keynote address by renowned musicologist, Alan Walker
·         Exposure to new pedagogical materials, including Paula Dreyer's latest Little Gems for Piano collaboration with Marilyn Lowe
·         Uni-nostril and alternate-nostril breathing techniques as coping methods for performance anxiety
·         Kazoos as a light-hearted alternative to singing
·         Dozens of simple techniques to expose students to the art of Prepared Piano
·         Oodles of new applications of Music Learning Theory
·         New-to-me repertoire by African-American Composers
…This list could go on for days.  However, what I'd most like to remind my fellow teachers is the fact that our biggest takeaways are often found over lunch, or while chit-chatting our way through the Exhibit Hall.  As Karen Thickstun so aptly noted in her session on Originals, peer groups and colleagues are our best sounding boards.  I have been so uplifted from spending several days with "my people".   I am continually impressed with the individuals our profession attracts.  I love my partners in this art.
I'd like to offer my most heartfelt thanks to the Board of Trustees and the IMTA Board of Directors for assisting me in this trip through a Stickley Travel Grant.   If anyone is interested in reading a (much!)  longer overview of MTNA 2019, you are welcome to do so here.  (include link to www.whitlockpianostudio.com/blog).
—————————————–
From Lori Rhoden:
It was a great pleasure to be back at MTNA this year and I thoroughly enjoyed the entire trip.  Here are some of my highlights:
It is always fun to be a presenter, and I was happy to have a good group of folks in my session who were very attentive.  They asked a lot of questions and gave me some nice feedback at the end and during the next few days.  I enjoy talking to teachers about teaching music!
I was very proud of our Ball State alums Amy Chaplin and Christina Whitlock who were selected as presenters.  They are such great professionals who are really thriving and we are proud to have them represent Ball State University!
I really enjoyed the keynote speech on Chopin given by Alan Walker, a highly-respected music historian.  He pointed out some of the myths about Chopin we have heard for years – it was a reminder that not everything we read in books is necessarily accurate!  I was one of the fortunate ones to be able to purchase his lengthy new biography of Chopin and get him to autograph it.  Now that I have heard his voice, I will be able to imagine him reading the words to me as I delve into what promises to be a fascinating book on one of our most revered composers.
It was a thrill to hear Dominic Muzzi, the Indiana state Young Artist Piano winner who went on to win the East Central Division and then represent us at the national competition. Having been one of the judges when he won the state competition, it was exciting to hear him again and then to celebrate when he won the national competition.  We are all very proud of him.  By the way, we both got our undergraduate degrees at  FSU – I was just a few years earlier (haha)…… Go Seminoles!
Attending MTNA for many years has given me a chance to see a lot of wonderful places in the USA. It was a treat to be able to explore Spokane, Idaho, and even a little bit of Montana.   I checked off two more states (Idaho and Montana) on my quest to see them all (only about 10 left to visit). Just beautiful…..
The best thing about attending MTNA is the opportunity to connect with my music teacher colleagues.  We had a blast at the Indiana dinner and it was so great to see so many of my friends from around the country whom I have met and gotten to know through MTNA. If you have never had the opportunity to attend one of the MTNA national conferences, I encourage you to plan now to attend the 2020 conference in Chicago – an easy trip for us Hoosiers!  Start making your plans now to be able to give yourself this opportunity – you won't regret it!