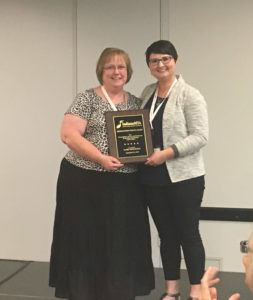 The Distinguished Service Award is a very special award that is given at the discretion of the IMTA State President and presented on rare occasions to recognize outstanding service to IMTA. Recipients receive a plaque, a lifetime waiver of state dues, and will be featured in a post on the IMTA Website.
Dr. Lori Rhoden was awarded the Distinguished Service Award this past weekend at the IMTA State Conference.
Dr. Rhoden has been a member of MTNA since 1993 and of Indiana MTA since 1999. Prior to coming to Indiana, she was a member of Georgia and South Georgia MTA's. She first started on the state board as Editor of the Indiana Music Teacher Newsletter (yes, the PRINT edition of the newsletter) and served in that role from 1999-2004. In 2001 she started the Ball State Collegiate Chapter – and in 2002 she became the Collegiate Chapters chair – both positions of which she still holds to this day.
In 2004 she served a three-year term as state President and, as is the process, was a trustee following for an additional six years.
Rhoden has always been a strong advocate for this organization. Not only has she encouraged many graduate students and helped them see the value of being an active part of the organization, but she has advocated for and perhaps even "bugged" many University faculty trying to get more collegiate chapters going in the state.
Dr. Rhoden is a tenured professor of Music Performance at Ball State University and regularly attends and presents at both National and State Conferences. Not only does she impact students at Ball State, but since 2002, she has been part of the piano faculty at the summer international MasterWorks Festival and has been the Piano Program Director for MasterWorks since 2006.
This year marks 20 years of service that Lori has given to IMTA. She has been and is still a highly valued part of the Indiana Music Teachers Association Board of Directors.
Former recipients include Jack Eaton (1995), Verna Abe, Carolyn Hertzler, and Karen Thickstun (2002), Juliana Lockman (2005), Margaret Roby (2014), and Douglas Sperry (2018)
Pictured below from left to right is Douglas Sperry (2018), Karen Thickstun (2002), Lori Rhoden (2019), Juliana Lockman (2005), and Margy Roby (2014).