IMTA is pleased to announce we will be hosting Dr. Christopher and Katherine Fisher as our clinicians for the upcoming IMTA state conference to be held at Sweetwater Sound in Fort Wayne on October, 5, 6. Details will continue to be made available on the conference page. Online registration for the conference will be open no later than August 1 here on the IMTA website.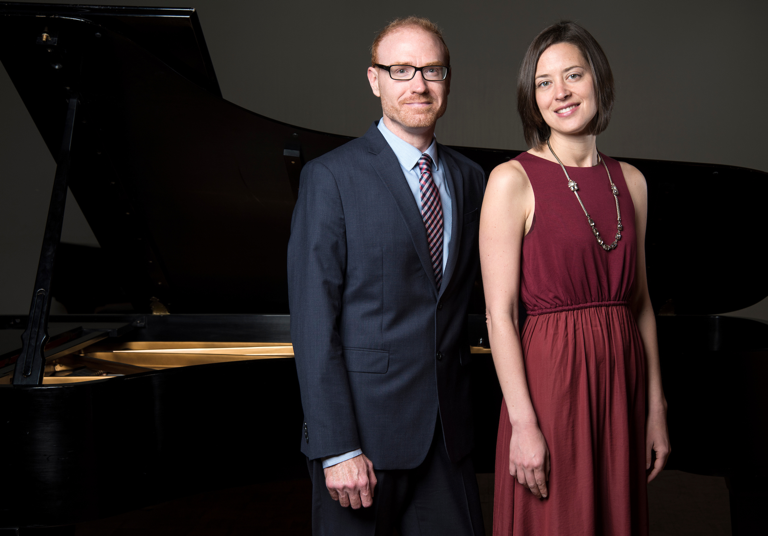 Dr. Christopher Fisher is Professor of Piano at Ohio University School of Music in Athens, Ohio where he chairs the Keyboard Division, directs the graduate piano performance and pedagogy programs, and coordinates the Ohio University Piano Pedagogy Seminar. He is Director of Studies for the Honors Tutorial College Music Program. Recognized for his teaching, Dr. Fisher was the 2010 recipient of the Ohio Music Teachers Association Collegiate Teacher of the Year and the Ohio University School of Music Distinguished Teaching Award.
Dr. Fisher is the author of Teaching Piano in Groups (Oxford University Press, 2010) and co-author of the revised and expanded edition of Piano Duet Repertoire (Indiana University Press, 2016). He has published in leading keyboard journals and is a contributing composer for the innovative piano method, Piano Safari (www.pianosafari.com), which is used by piano teachers and students around the globe. His educational compositions are published by Alfred Music and Piano Safari.
In demand as a workshop and master class clinician, Dr. Fisher has presented lectures internationally, including the national conferences of the Music Teachers National Association, National Conference on Keyboard Pedagogy, the National Group Piano and Piano Pedagogy Forum, the Australasian Piano Pedagogy Conference, and the Encontro Internacional de Pianistas de Piracicaba Brasil. Dr. Fisher has also served as a guest lecturer at leading conservatories and universities including recent engagements at The Juilliard School.
Katherine Fisher is co-author of the Piano Safari Method (www.pianosafari.com) for children. She and Dr. Julie Knerr have been working on their piano method since their time in school together at the University of Oklahoma when they both realized they had mutual dreams of writing a piano method that would incorporate all the best elements of the various methods they had been using in their teaching.
She is an affiliate faculty member of the Athens Community Music School at Ohio University in Athens, Ohio.  Her responsibilities include teaching private piano lessons as well as coordinating the Piano Preparatory Program (group lessons) for children who are beginners at the instrument.
Katherine is an active member of the Music Teachers National Association and presently serves as the Wellness Forum Chair for the Ohio Music Teachers Association. She presently serves in the capacity of Vice-President for Membership for the Southeast District of OhioMTA.
A native of Ohio, Katherine obtained her degrees from the University of Oklahoma (Master of Music in Piano Performance and Pedagogy) and the Wheaton College Conservatory of Music (Bachelor of Music in Piano Performance).  Her former teachers include Jeongwon Ham, Jane Magrath, Barbara Fast, Karin R. Edwards, and Nancy Bachus.