IMTA is excited to announce that the Benjamin Krause has been named the 2018 MTNA Distinguished Composer of the Year!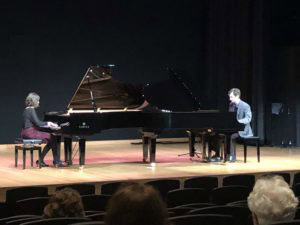 Krause was the 2018 MTNA/IMTA Commissioned Composer whose piece, Taxonimies of Pulse, a work for two pianos, was premiered at the 2018 State Conference at Sweetwater Sound in Fort Wayne.
This award is conferred upon the composer of the most significant composition from among all works commissioned by the MTNA state affiliates. This year there were 28 submissions.
The recipient of the MTNA Distinguished Composer of the Year Award receives a $5,000 cash prize, made possible by the MTNA FOUNDATION FUND. The award also includes a performance of the composition at the 2019 MTNA National Conference, which will be held from March 16-20, 2019 in Spokane, Washington. The actual performance is scheduled on Sunday, March 17 from 11:00 a.m. -12:00 noon in the Conference Theater in the Spokane Convention Center.
The judges for the 2018 MTNA Distinguished Composer of the Year Award were:
Dr. Philip Schuessler, 2017 MTNA Distinguished Composer of the Year, Instructor of Music Theory & Composition at Southeastern Louisiana University
Dr. M. Shawn Hundley, Lecturer in Composition and Music Theory at University of Hawaii, Manoa
Dr. Michael-Thomas Foumai, Associate Professor of Composition & Music Theory Bethune-Cookman University.
Bio: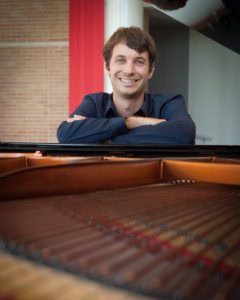 Benjamin Krause's work has been recognized through grants, commissions, and awards by the Houston Symphony, Copland House, Network for New Music, Presser Foundation, ASCAP, Da Camera of Houston, and The American Conservatory in Fontainebleau, France. Drawing freely from varied traditions and aesthetics, his music is characterized by its visceral rhythmic drive, motivic control, and colorful, dense harmonies reminiscent of jazz. As a pianist, he regularly performs new music, jazz, and the classical repertoire, appearing at Carnegie Hall, Zilkha Hall (Houston), the Houston Museum of Fine Arts, the Menil Collection, and in collaboration with such artists as Molly Barth (Eighth Blackbird), Jeffrey Zeigler (the Kronos Quartet), Timothy McAllister (PRISM Saxophone Quartet), and Ronald Feldman (the Boston Symphony). He has held residencies and fellowships at the Oregon Bach Festival Composers' Symposium, Lutheran Summer Music, and the Bennington Chamber Music Conference, and will be in residency at the Brush Creek Foundation for the Arts (WY) in Fall 2018. He was also recently awarded the prestigious Copland House Residency Award, which will grant him time to work and reside at Aaron Copland's New York home.
Krause holds composition degrees from Rice University (D.M.A.) and the University of Oregon (M.M.), and a B.M. in piano performance from Valparaiso University, where he also served as Visiting Assistant Professor of Music (2015-2018). He lives in Chicago with his wife, pianist Christina Giuca Krause.