Congratulations to former Butler Collegiate Chapter MTA member Karen Lien, winner of the Mary Sue Harris Fellowship, awarded annually by MTNA!
The $3,000 grant, funded by the MarySue Harris Endowment Fund, is presented annually to a recently graduated independent teacher who demonstrates commitment to the music teaching profession and outstanding studio development.
Read more below about Karen including details on her active role in the Butler Collegiate Chapter and the wonderful Indiana teachers with whom she studied.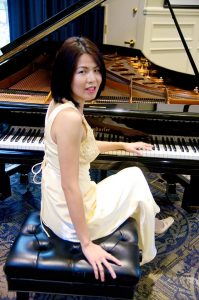 Karen Lien is living her dream life as a piano teacher and owner of You LOVE Piano studio.  Before receiving her Master of Music degree in Piano Pedagogy from Butler University and starting her teaching career at You LOVE Piano studio, she was a software developer and an instructor, who had the opportunity to teach programming and website design.  In 2009, the passion of playing music and being a piano teacher called her to pursue a career in piano teaching.  Through the support from her family and friends and many respectful mentors like Dr. Courtney Crappell, Prof. Karen Thickstun, and Dr. Kate Boyd, her lifelong dream finally became a reality. 
Karen resides in San Antonio, TX and she enjoys teaching Little Mozart program for 4- and 5-years-old, Achievement program for school-age children, and Recreational Music Making (RMM) program for teens and adults.  Now, she dreams to bring the enjoyment of music-making to more children in her community.  This dream of making piano lessons accessible to children comes from her own childhood experience.  When Karen was 5-years-old, she could not continue piano lessons because of her family's financial difficulty.  However, her love for music and piano playing has never ceased, and eventually, she found her way back to playing the piano.  Karen has never forgotten her childhood dream that children who love piano playing (like she did) will also have the opportunities to enjoy the many benefits of music. 
A passionate teacher, Karen continues to seek and advance her professional development by completing certification program, attending and presenting in national and state conferences.  In 2015, Karen earned the NCTM designation through MTNA's Professional Certification Program and is honored to be a nationally certified teacher of Music.  In 2014, under the guidance of Professor Thickstun, Karen and her colleagues from the Butler University MTNA Chapter presented "Creating a Musical Wonderland: Teaching Composition Through Storytelling" at the MTNA National Conference and Indianapolis Piano Teachers Association (IPTA) meeting.  In 2013, Karen attended MTNA national conference and presented a poster session with Butler University MTNA Chapter.   Karen served as vice president in the Butler University Collegiate Chapter of MTNA and helped coordinating a member recital, the annual Children's Music Festival, conference presentation and volunteered at AIM and Hoosier Auditions.
In addition to teaching, she served as pianist and choral accompanist for First Chinese Baptist Church in San Antonio and has accompanied theater productions and choirs in Texas, Ohio and Japan including Spring Creek Untied Methodist Church, Dayton Chinese Christian Church, Tokyo Presbyterian Church, Yokota Middle School, Missoula's children theater and Yokota Theater.

For further interest in the MTNA Fellowship Award vist the MTNA website